@import url(https://www.blogger.com/static/v1/v-css/navbar/3334278262-classic.css); div.b-mobile {display:none;}
Galanos evening gown, 1967; Photo by Henry Clarke
Point #9: Consider color; don't get set in concrete as to what colors you can and cannot wear. To be adamant on the subject of black or brown, shrimp pink or almond green is nonsense. Quite possibly with the right shades of rouges, lipstick, and powder we can wear them. Another thing to remember is that as we grow older we can frequently change our color spectrum with flattering results.
How would Ms Chase feel walking into any of my friend's closets, or mine, for that matter? I think we can be surely confident that she would take great displeasure in the large collections of random pieces of clothing we all house.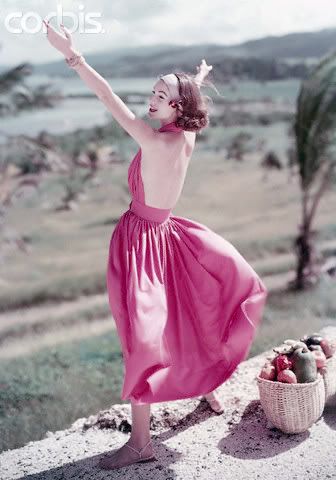 Claire McCardell dress, 1957; Photo by Frances McLaughlin-Gill.
Excerpt from: Chase, Edna Woolman and Ilka.

Always in Vogue

. Garden City, New York: Doubleday & Company Inc,1954.

Labels: claire mccardell, edna woolman chase, galanos, rules of fashion