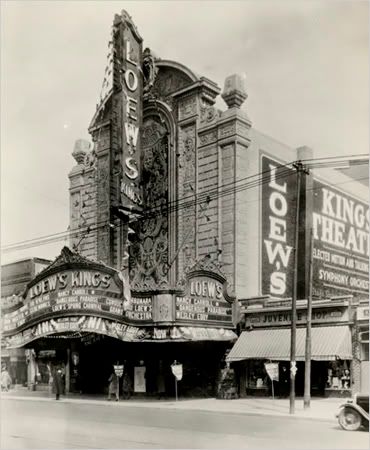 Lowe's Kings Theater in 1930. Photo courtesy of the American Museum of the Moving Image

I just noticed this article on the NY Times website, which was published yesterday, about the imminent renovation of the Loew's Kings Theater on Flatbush Avenue in Brooklyn. Every time I've been in a car driving down Flatbush I've stared in awe at the crumbling deco edifice, and wondered how it is possible that a movie theater with those lines could be allowed to get into such bad condition.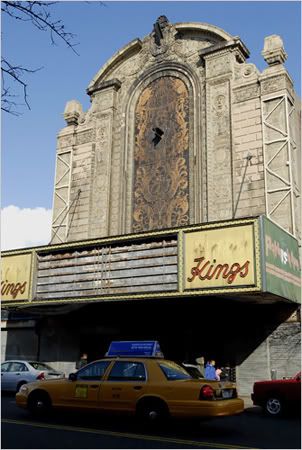 The Lowes Theater in 1997, Richard Perry for the New York Times.

The Lowe's Kings Theater has been closed since 1977 and it was seized by the city in 1979, in lieu of back taxes. Since then it has sat empty, except for the occasional vandals and vermin. Last week the city finally announced that plans are moving forward to renovate it- a developer has signed a contract and paid a $70 million down payment toward their goal of creating a space for live performances. The photos they published of the destroyed interiors are seriously stunning, so I can only hope they do this building justice with their renovation.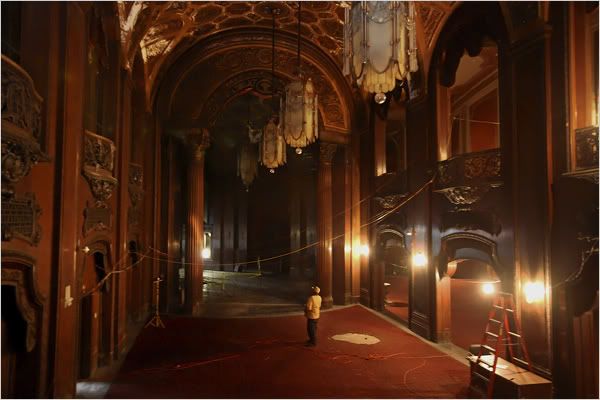 Both Photos by Nicole Bengiveno for the New York Times.