@import url(https://www.blogger.com/static/v1/v-css/navbar/3334278262-classic.css); div.b-mobile {display:none;}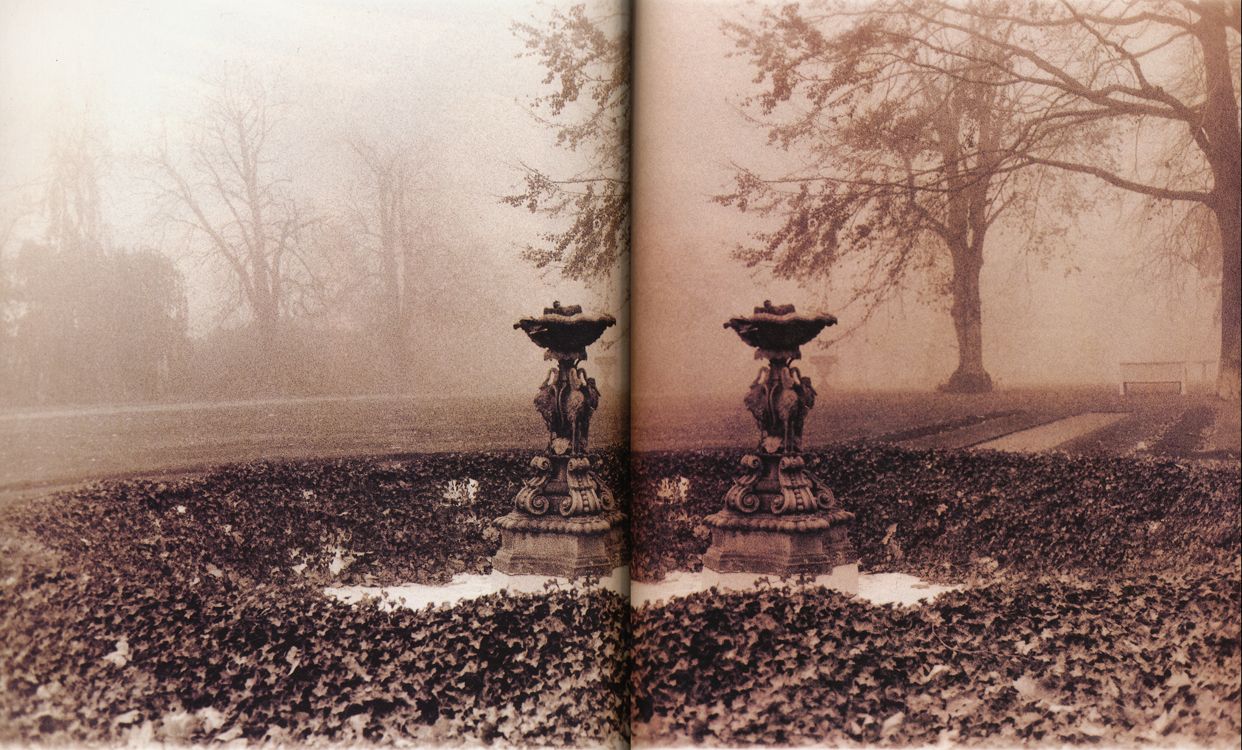 Fountain in the garden of Rosecliff.



I've never been to Newport but it has been on my list of places to visit for years, ever since I read all of Edith Wharton's Gilded Age novels. While she never described the mansions there (and actually blasted their over-ornamentation in The Decoration of Houses
), her books brought that whole period alive to me. Deborah Turbeville's Newport Remembered
brings that era to life, but in a very different way- nostalgic and with a creeping sensation of imminent death, the death of a way of life. Turbeville's photos have always had that dreamlike, foggy effect due to the printing techniques used by her long-time printer, and collaborator, Sharon Schuster, and no where has her style been better suited than in Newport. Below is her handwritten foreword describing the reasons she felt so drawn to this forgotten playground of the rich and powerful. The scrapbook layout of the book, combining 1880s snapshots with Turbeville's own photographs and scrawled quotes from high society memoirs, enhances the nostalgic feel- as if it was made by a lonely girl waiting out the winter in The Breakers for summer and the rest of society to return...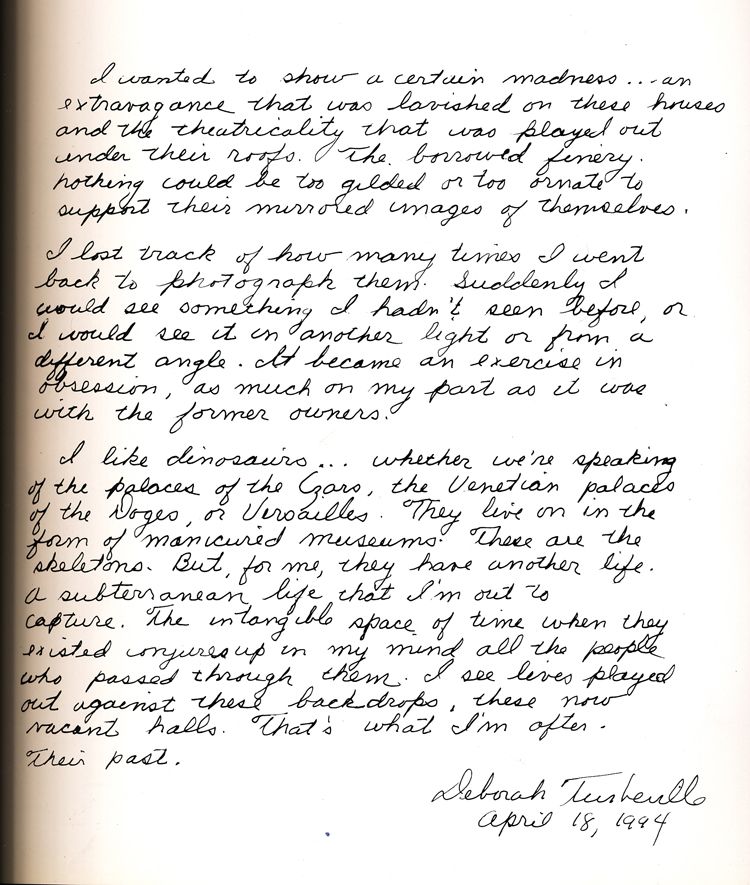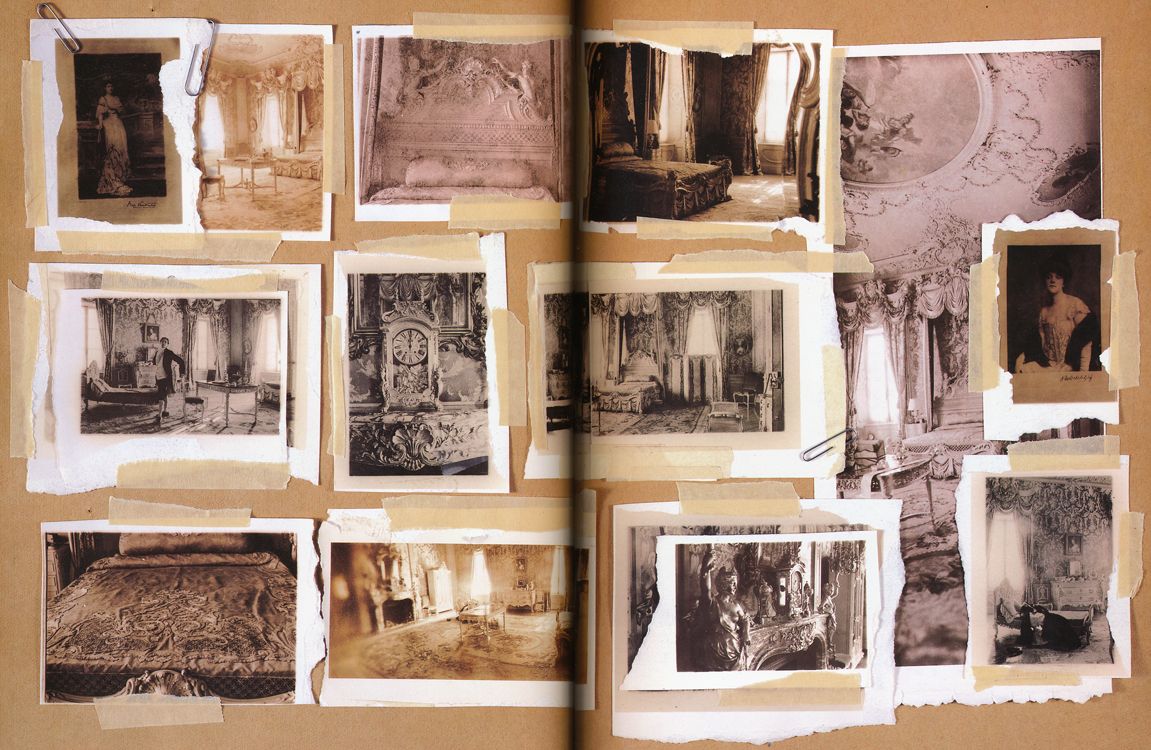 Views of Alva Vanderbilt's bedroom at Marble House.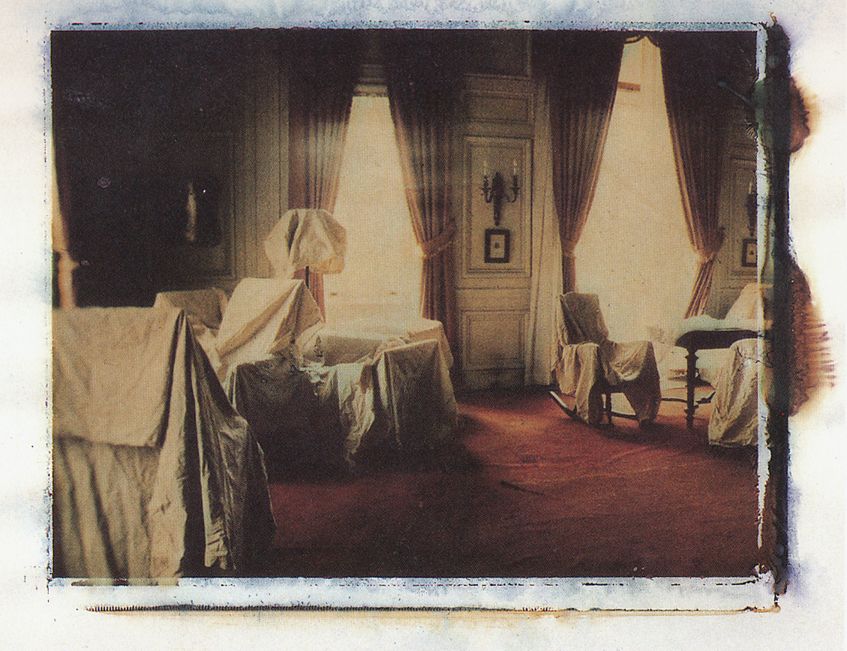 A room draped for winter.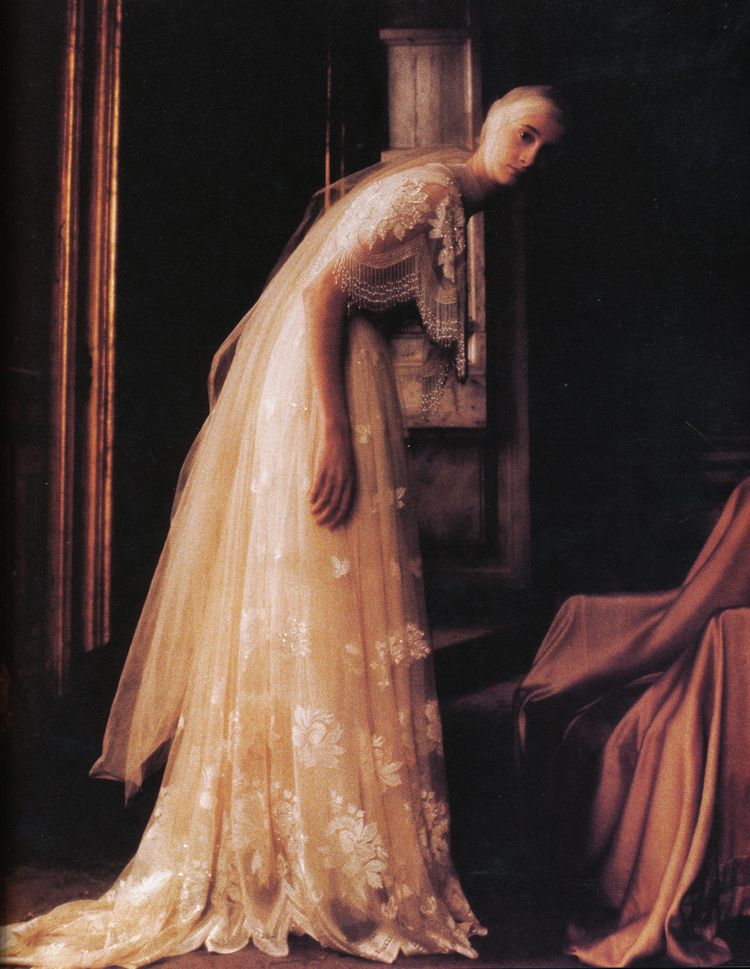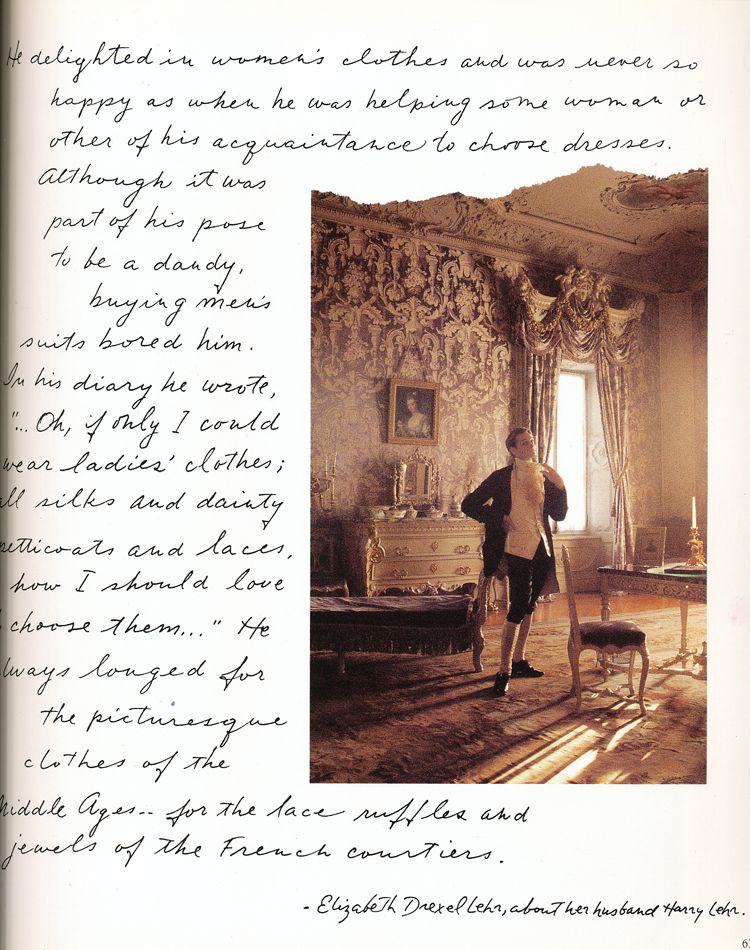 Hamish Bowles playing the role of Harry Lehr in ALva Vanderbilt's bedroom, Marble House. Quote from- Lehr, Elizabeth Drexel. "King Lehr" and the Gilded Age. Philadelphia: J.B. Lippincott Co., 1935.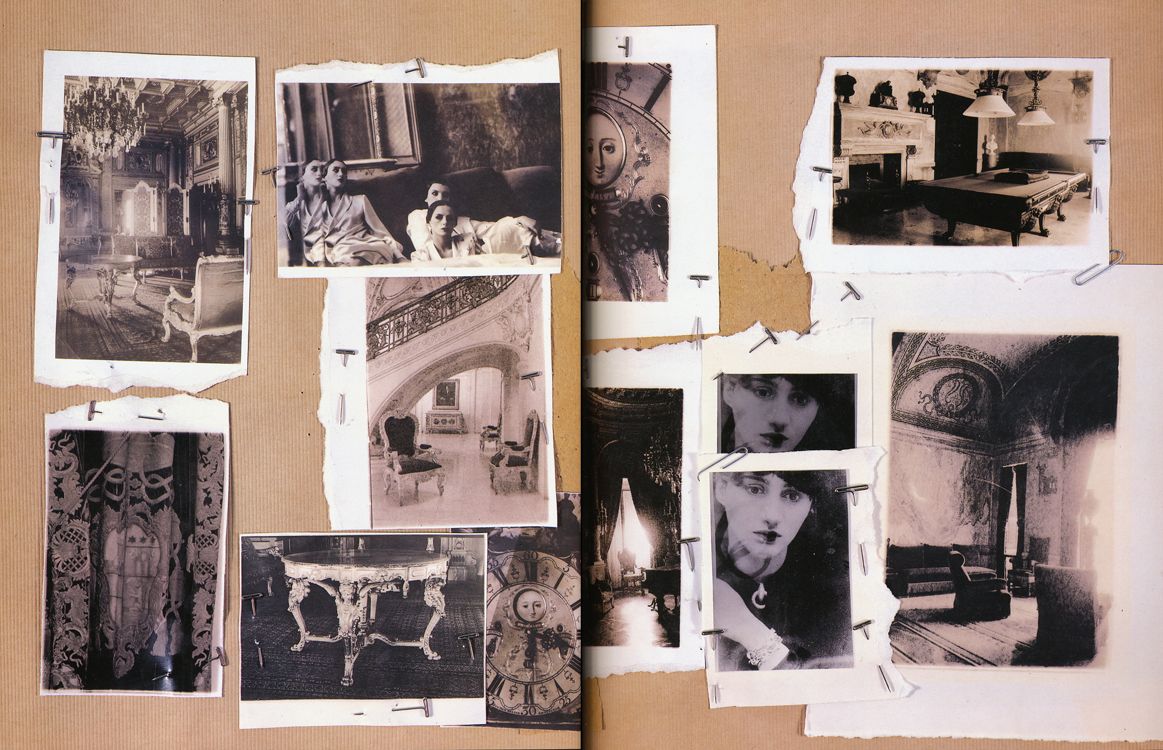 Views of the staircase, salons, billiard room, and curtained room off the foyer of The Breakers.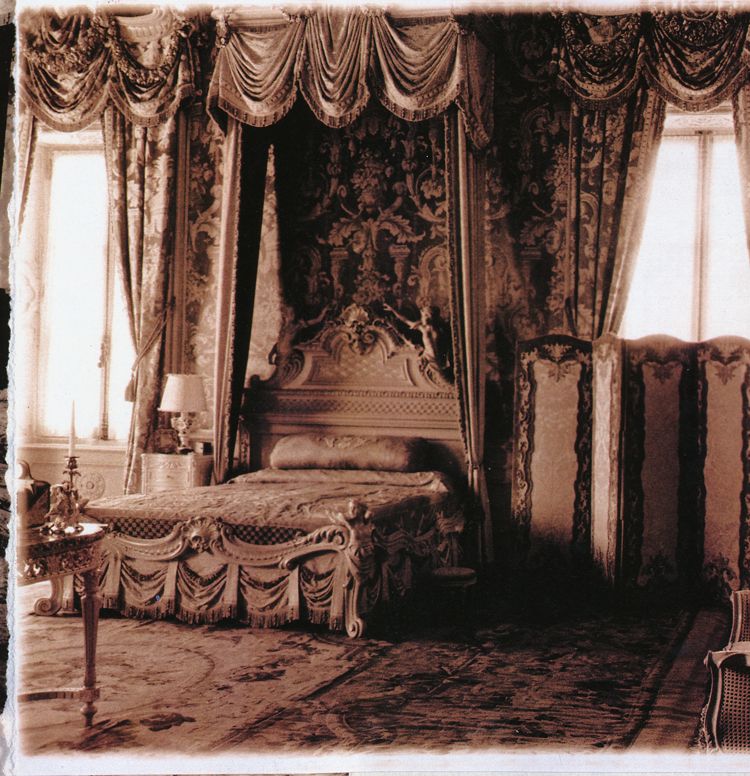 View of Alva Vanderbilt's bedroom at Marble House.
All photos and captions from- Turbeville, Deborah and Louis Auchincloss. Newport Remembered. New York: Harry N. Abrams, 1994.
Labels: belle epoque, deborah turbeville, love, newport, romance, the breakers, vanderbilts