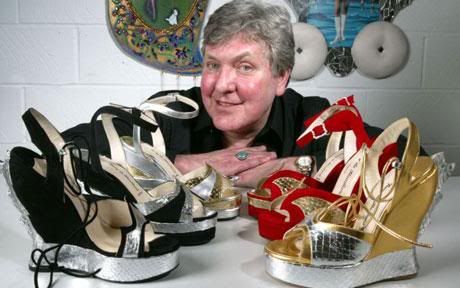 Terry de Havilland. Photographed by Andrew Crowley.



My absolute favourite shoe designer, Terry de Havilland, was given the Lifetime Achievement Award at the Drapers Footwear Awards in London this past week. My love of his shoes is well-documented on this site, especially in my post about my favourite shoes last week. He definitely deserves the honour, especially since de Havilland is still creating and producing today, fifty years after getting his start in the business.



The Sole of Fashion
Hilary Alexander

Terry de Havilland, the British celebrity shoemaker, was given the Lifetime Achievement Award at the Drapers Footwear Awards, in London, last night (May 27th). The award recognised his extraordinary half-century in shoe-business and his contribution to the world of fashion.



De Havilland first became famous in the 1970's with his King's Road store, Cobblers, which was besieged by the likes of Bianca Jagger, Elton John, Shirley Bassey and Rudolph Nureyev. Everyone wanted De Havilland's tiered, serpentine wedges and platform boots, in gleaming metallics, psychedelic colours and neon-snakeskin.



More recently, the shoemaker became the 'comeback kid', famously designing the shoes for the late Alexander McQueen's Central Saint Martins graduate catwalk show in 1992, and for the action-actress, Angelina Jolie, in 'Tomb Raider'. His retro flair soon attracted the likes of Kate Moss, Sienna Miller, Naomi Campbell, Cheryl Cole, Kylie Minogue's Madame Tussauds waxwork, and Amy Winehouse.



De Havilland, now 71, has been making shoes since he was five yearsold, when he used to help out in the family business, Waverley Shoes. He still designs custom-made pieces and recently launched a new ready-to-wear line.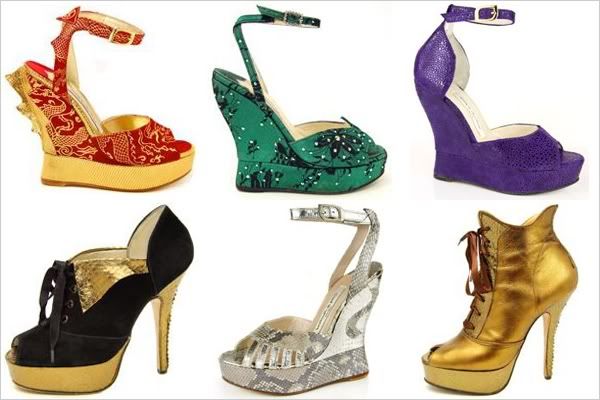 Some pieces from his new RTW line.