Taken by Mark Shaw for Life magazine, this photo series documents the backstage backstage goings on during a Pierre Balmain couture show in 1954. While the clients were being treated to a sedate and glamourous show in the well-appointed salon, in the cabine the models were being quickly squeezed into a variety of constricting yet beautiful garments. This rare peak into the frenzied backstage world of the couture helps to flesh out our understanding of that industry, and provides a welcome counterpoint to the idealized fashion photographs of the time. Ginette Spanier, Balmain's elegant directrice, vividly described this type of scene in her wonderful autobiography, It Isn't All Mink, and I have included an edited quote from it below.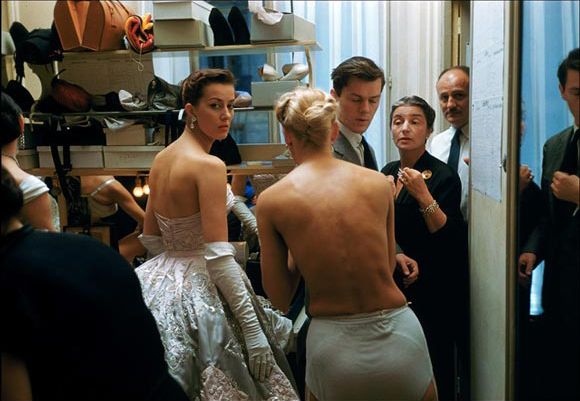 Above right is Ginette Spanier.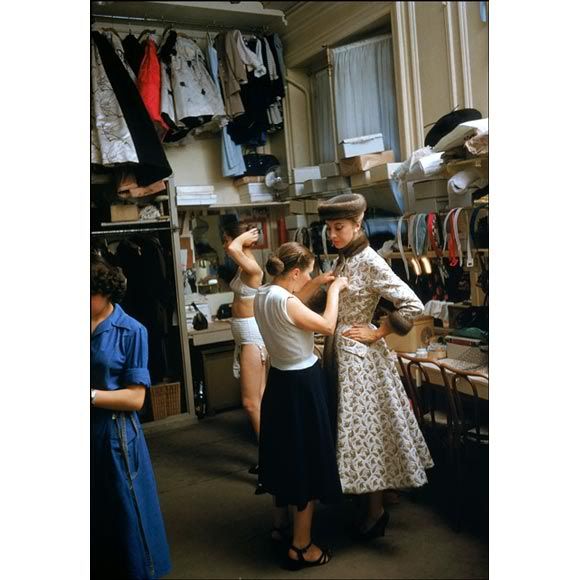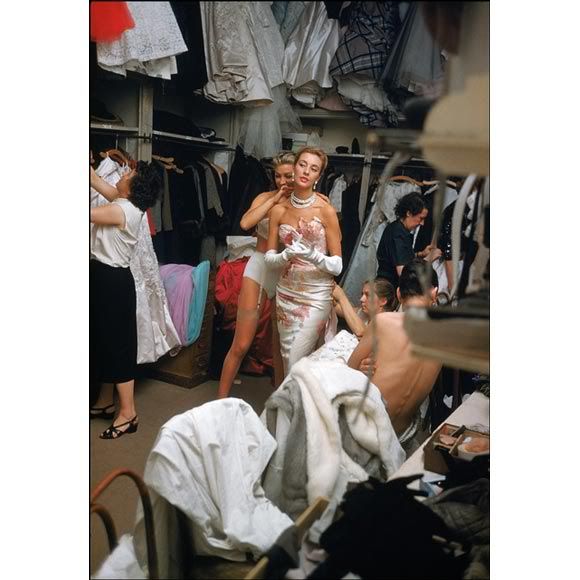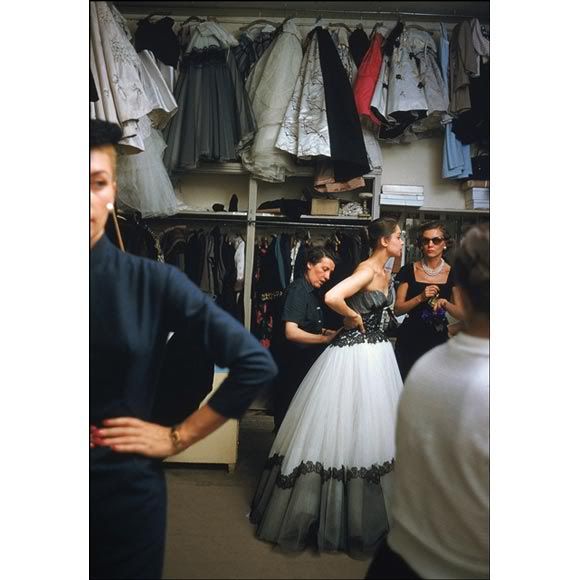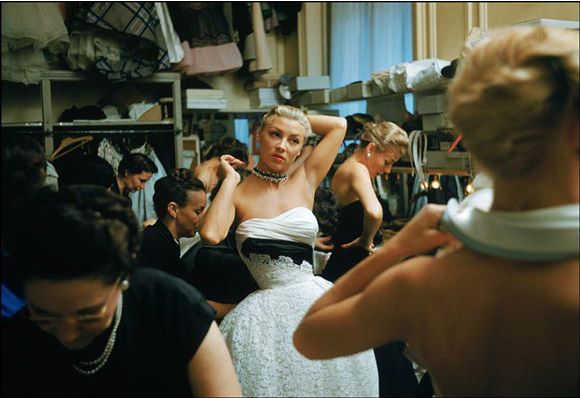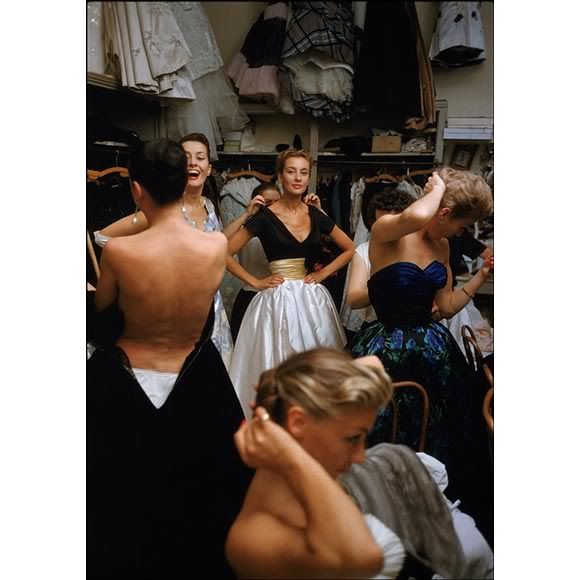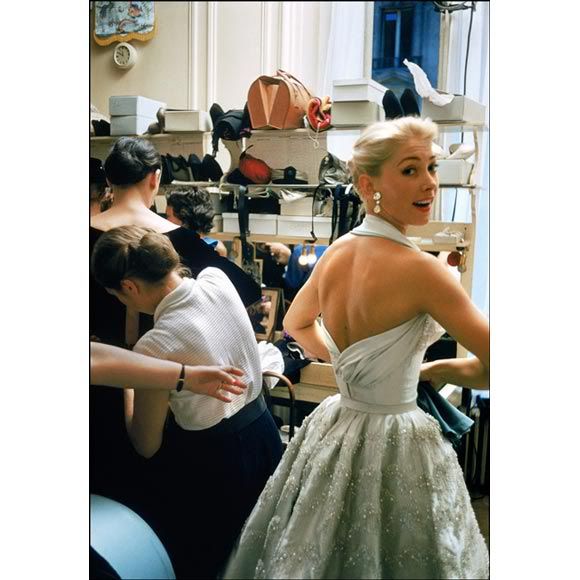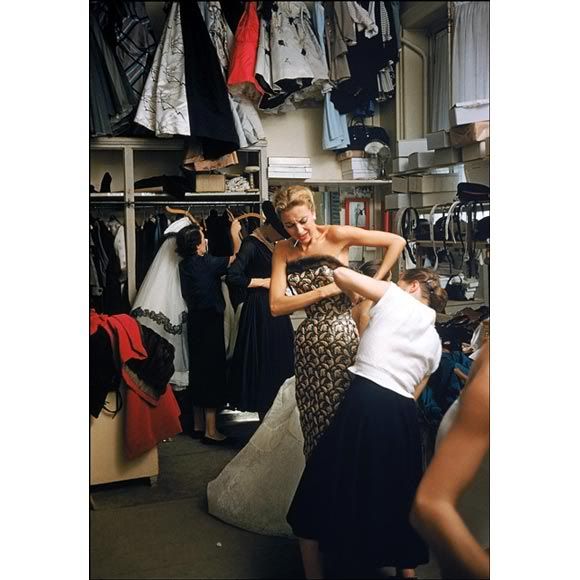 "The first show, the very first opening each season, is something which always overexcites me. At my very first opening, Balmain pushed me, on the spur of the moment, into the cabine. At that time I hardly even knew what the cabine was. It is, in fact, the little hot, overcrowded room where the mannequins change from one model gown to another. As there are over a hundred and fifty dresses to each show, and only about eight girls to where them, the backstage scene is a mixture between a harem and a bathhouse.

All around me were half-dressed beauties with their feet up, sitting on little hard white chairs. Their names were emblazoned across the back as if they were boxers or film directors. There was the rustling of glorious dresses being lifted down from racks in the ceiling on a long pole, like turkeys in a market.

It is quite something to see a grande collection explode backstage. The model girls, stripped to pants and brassieres, always put on hats first: incredible hats. Marie-Thérèse, one of our great stars, chews gum monotonously. Eight girls step into fabulous dresses. Eight girls fight to get into a gap in the show line. They swear. They pull in their waists. They brush their hair for the evening dresses. They cry. The dressers scream at them. The chef de cabine screams loudest of them all.

The girls dress at fever speed. The professionals among them seem calm. This means nothing. Underneath they erupt like volcanoes. From snapping and behaving like fishwives they draw themselves up to become public idols and slide through the curtains..."
Spanier, Ginette. It Isn't All Mink. New York: Random House, 1960.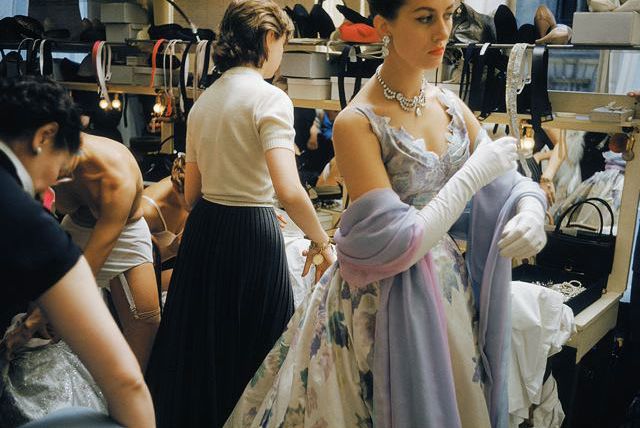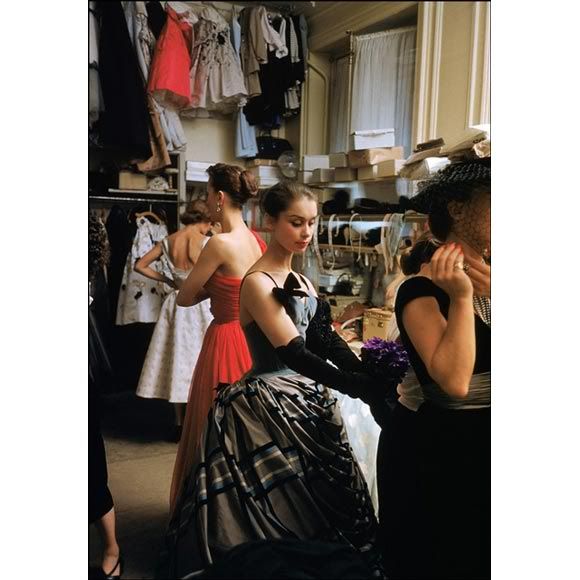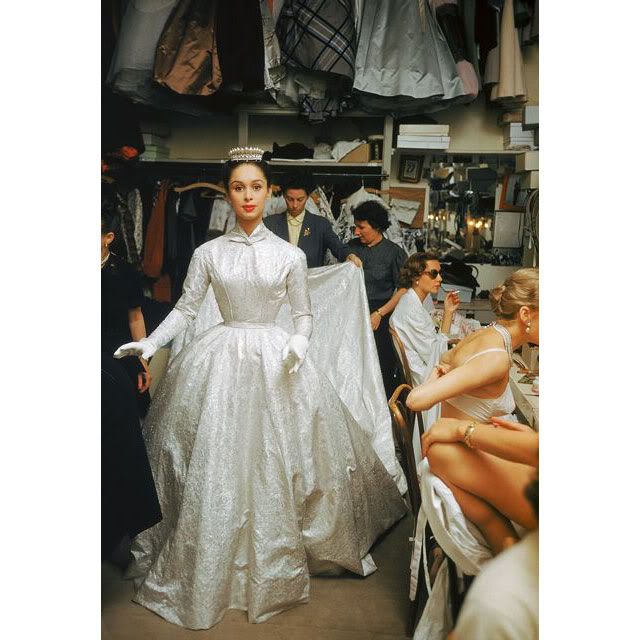 All photos by Mark Shaw.