Max Gordon in his study sitting in a Scarpa leather chair, in front of a painting by American realist Alan Turner; this, of an archetypal director and his chauffeur, was once intended to hang in Hill Samuel's entrance hall, for a double take.



The Belgrave Square flat of the architect Max Gordon (most well-known now for designing New Scotland Yard) can be seen here, photographed by Tim Street-Porter for British Vogue, September 15 1971. Calling his style "more Boeing than Bauhaus," the space is glossy and neutral with colour and dynamism provided by his impressive modern art collection- the article states he also owns major works by David Hockney, Jim Dine, Ed Ruscha, Lee Bontecou and Richard Smith. In the 1980s, Gordon set up his own consulting firm specifically working on the display of artworks in metropolitan spaces and became the "architect of choice for museums, dealers' galleries and private collectors from Los Angeles, Chicago and New York to London, Madrid, Athens and Helsinki"(NY Times, "Max Gordon, an Architect, 59; Known for His Exhibition Spaces", August 27, 1990). His interest in designing spaces that served as proper frames for modern art can be seen here, as the sleek lines and minimal furniture provide a backdrop to the sculptures and paintings, making this apartment more of a living gallery than a home.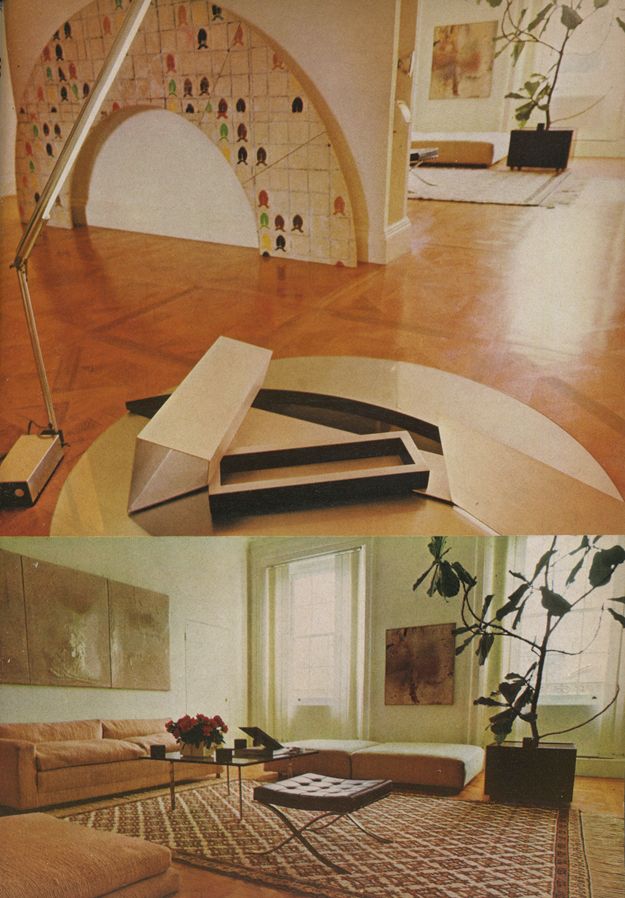 Dining area, top: Philip King's Small Sculpture, screen wall with light track for spots with dimmer controls. Living area, below: Vertical blinds screening windows, painting above the sofa Stephen Buckley's Fresh End, between the windows Ian Stephenson's Guistichrome. Asprey's upholstered furniture covered in handwoven Moroccan wool originally meant for the L.B. Johnson Library in Texas. Mies van der Rohe stool and table with Christopher Sanderson's Millington III. Modern Tunisian rug and a Ficus Elata almost touching the ceiling.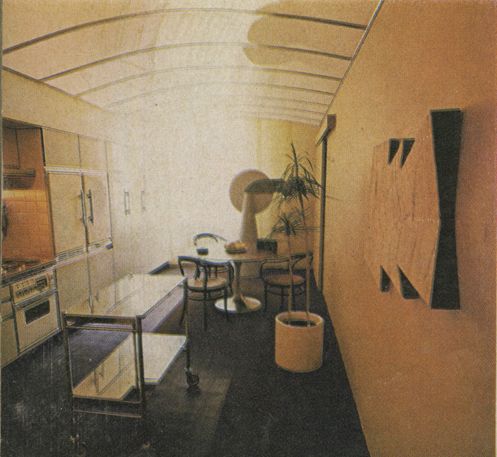 The kitchen, space for small dining table and chairs, matte sand colour walls, carpet all over with rubber overlays near stove and sink. The wall relief, Stephen Buckley's Hoch, the sculpture, Matt Rugg's Smokestack.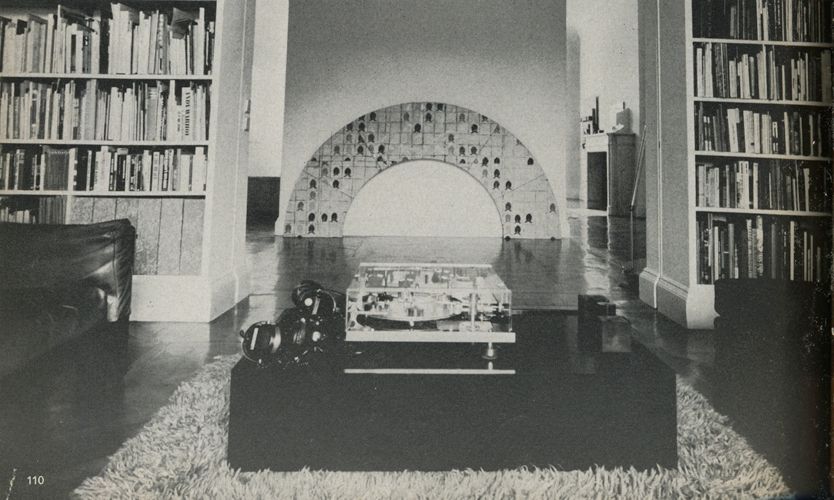 View through from the study to the dining and living areas. Transcriptor turntable and stereo headphones on black wood table on Moroccan wool rug, Scarpa leather chairs. Sliding doors have disappeared behind the books, against the wall Stephen Buckley's semi-circular waxed canvas Tarantaraa.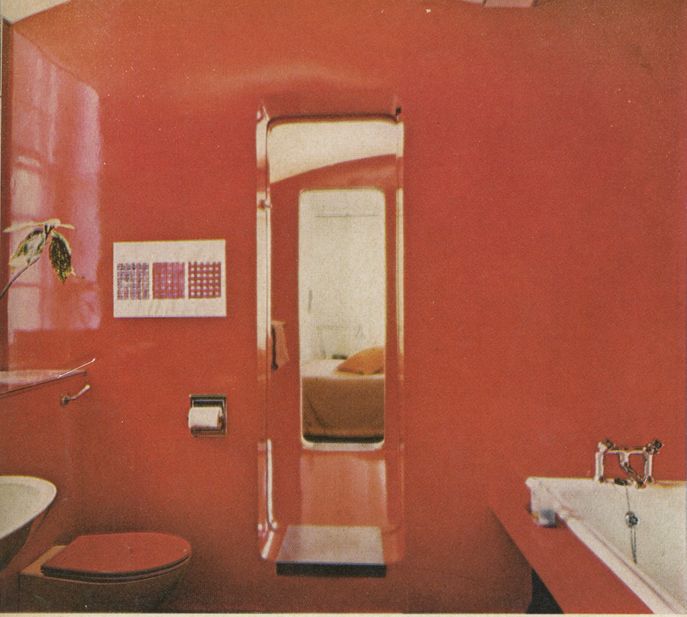 The bathroom painted brilliant glossy red marine Polyurethane, translucent white plastic ceiling, lights above that. Through the door, the equally scarlet shower, raised up, then the cool beige bedroom.