Roberto Sambonet's steel serving dish for fish "typifies the perfect simplicity characteristic of the New Bauhaus".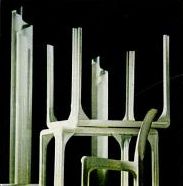 Plastic tables and chairs by Vico Magistretti.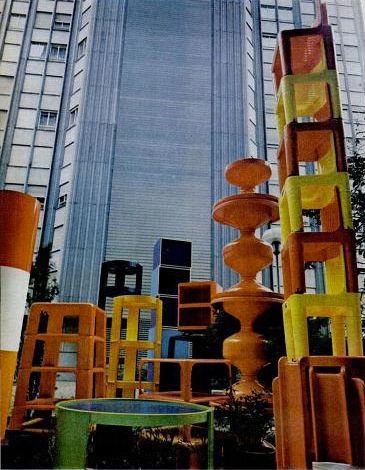 "Plastic pile-up is the work of Milanese designers all of whom were originally trained as architects. Their approach to a chair is roughly the same as if they were planning a house, and to them the concept of stacking furniture is as natural a way of minimizing volume and gaining space as extending a three-story building into a skyscraper."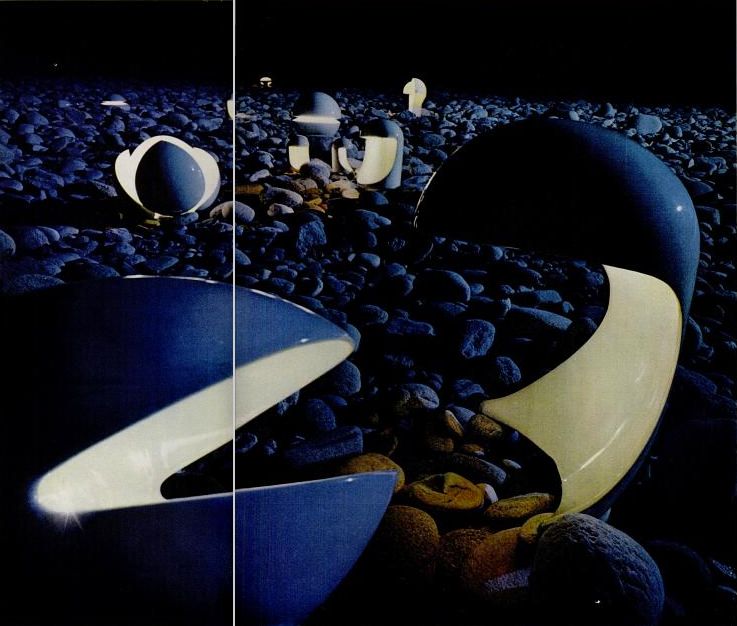 "Moonscape illuminated by lamplight is the dry margin of the Ticino River which flows by Milan. The glazed china lamp in left foreground was fashioned by Cesare Casati. The lamp at right by Dario Tognon is made out of enameled metal."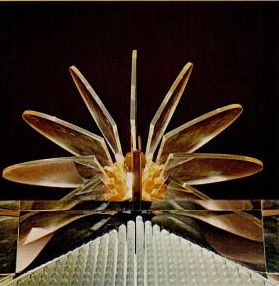 "Paddle wheel lamp is considered by its architect-designer, Gae Aulenti, to be more of a sculpture than a purely functional object. Aulenti wanted to create a lam that could diffuse light in the same way as the sun. Clear plastic gave the effect she wanted. It is seen through a plastic sculpture by Ugo La Pietra, another Milanese architect."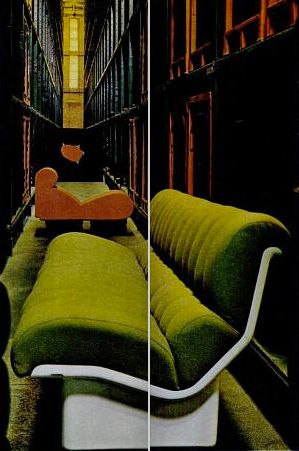 By the yard minicouch by Marco Zanuso, which was sold in sections. In the back is Cini Boeri's couch and a modular couch by Sebastian Matta.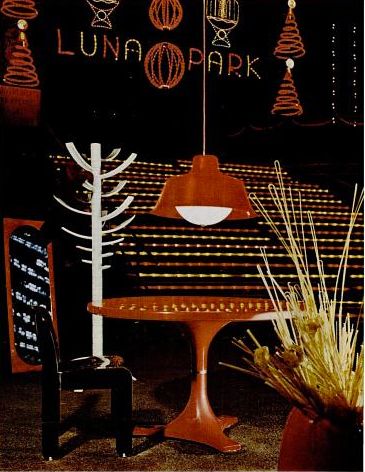 "Feast for a spaceman consists of pasta sprouting from Vico Magistretti's umbrella stand. The vacant table, by Anna Castelli and Jacopo Gardella, and chair, by Joe Columbo, are lit by Sergio Asti's hanging lamp."

"Martian is really a stereo set designed by brothers Achille and Pier Giacomo Castiglioni for Brionvega, one of Europe's most avant-garde TV and radio manufacturers."