Where the elite meet: the pool at Jayne Mansfield's Hollywood hideaway. Hard, brittle Seventies elegance struts across the heart-splattered grounds of Jayne's old mansion, Hollywood evening glitter in the shimmering heat of the day. The muffled sounds of limousines whooshing to secret destinations carry on the wind off the twisting canyon road, and dogs bark at mysterious shadows. The turquoise pool speaks of Jayne, and the palmettos rustle plaintively in afternoon haze.
Taking the sun in at Jayne's heart-shaped pool, Tina wears a pink satin swimsuit from Kate Shea as she flexes her muscles on the diving board.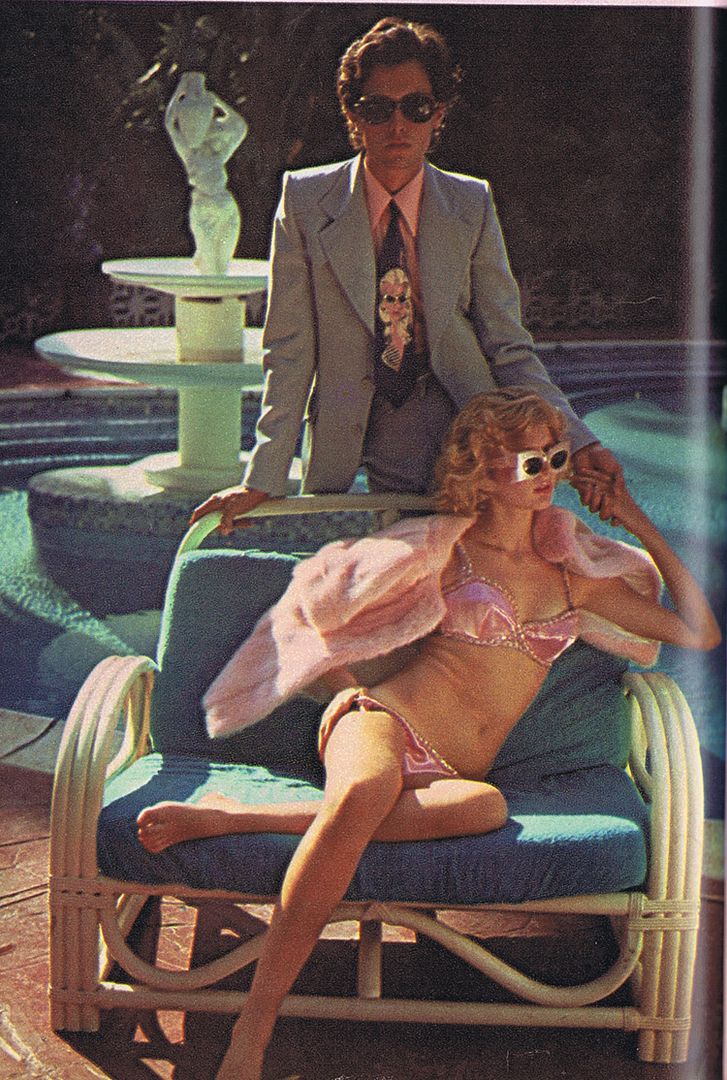 Wade's blue silk hand-tailored resort suit come from Moon, is seen often at Last Vegas. The pink voile shirt is from Pierre Balmain, and the tie is one-of-a-kind hand-painted Fifties flash from Moon. Tina has added a pink mink jacket from Ben Kahn to protect her from a late afternoon chill coming up from the canyon.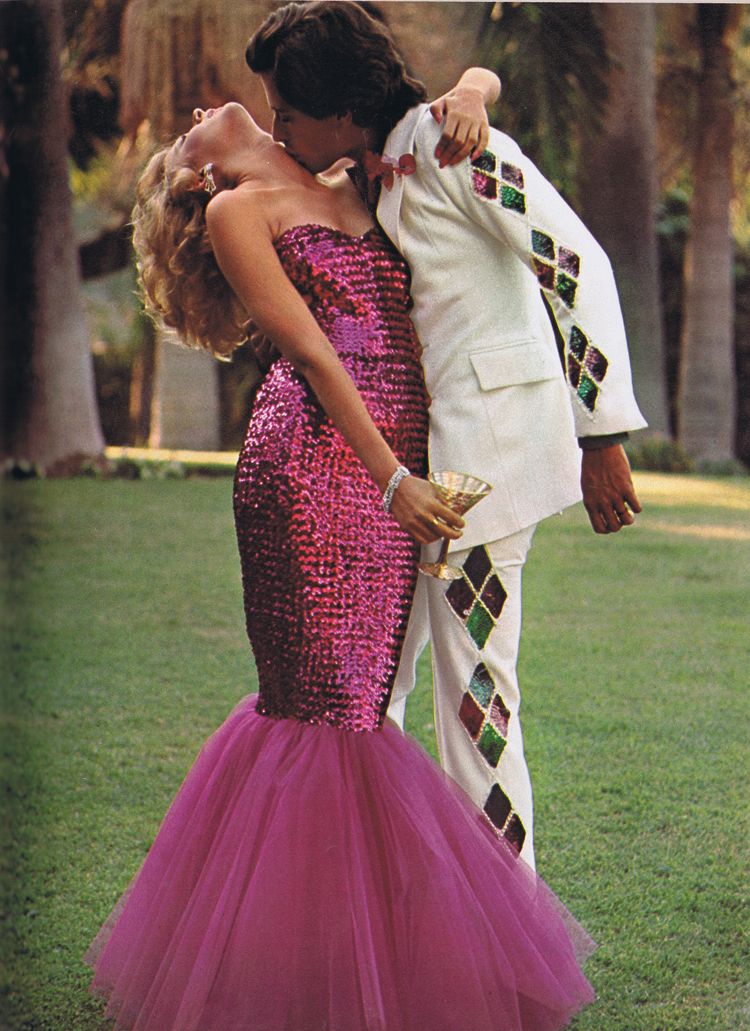 Wade's lips brush Tina's neck in a divine shimmer of sequined evening clothes. Wade's rockabilly white gabardine suit with sequined diamonds comes from Granny Takes a Trip, his silk aqua shirt from St Laurent, and a silky pink tie from Barney's. Tina's fuchsia sequin and tulle gown floated out of the Bubbly Dream Clothes, and her glittering rhinestone bracelet and earrings are both from Albert Weiss.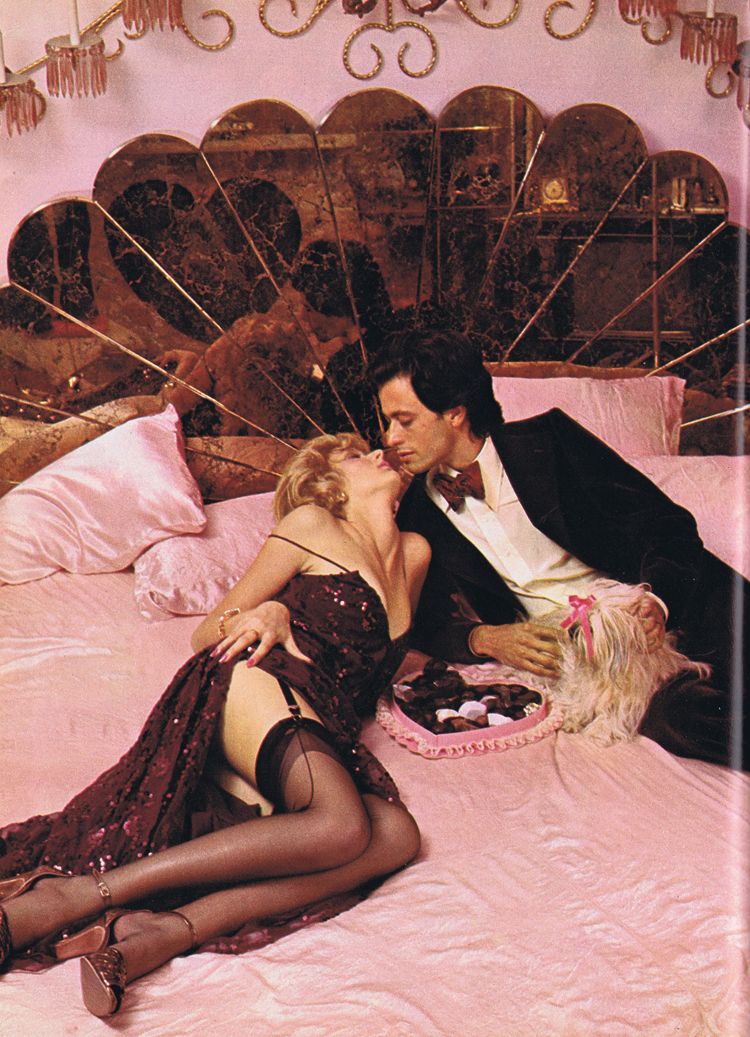 Tina and Wade, breathless in the innards of Jayne Mansfield's pink house, discover the joys of heartfelt evenings at home. Just Tina, Wade, and the dog, evening clothes set against evening clothes, bow tie against spaghetti strap, dog against chocolate.Tina thinks the ghost of Jayne still haunts the house at night. Her image sometimes appears in the antiqued mirrors over the giant bed. Sometimes a shadow of her face drifts across the small pink plastic hand mirror next to the gold-lined heart0shaped bath. An some evenings, when the nights are very, very quiet, and Wade is playing a bittersweet, low song for Tina, the shadow of Jayne appears fleetingly across the mirrored grand piano, whisks lightly across the keys, and tentatively presses the pedals.
What could be more divine on pink satin sheets than St. Laurent's maroon velvet suit, silk ties, and creme silk shirt. Tina finds the suit - and the dog - adds a certain je ne sais quoi to their lovemaking. Her breathless maroon chiffon gown was designed by Scott Barrie and sparkles plenty with sequins. Tina's gold ankle-strap shoes are also from Scott. The rhinestones at her wrist and ears are from Donald Stannard Inc.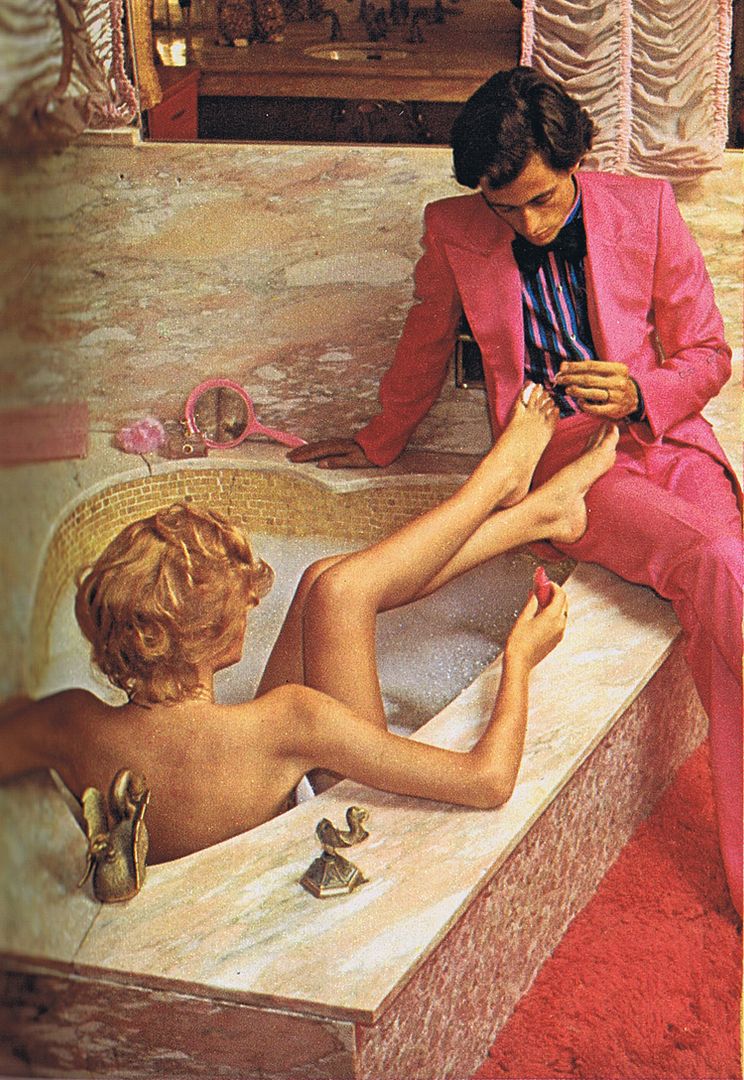 Wade's bathtub manner is enhanced by that hot pink linen suit from Granny Takes a Trip, the striped silk shirt and silk tie from St. Laurent, and a pair of basic-black wing tips from Pierre Cardin. Tina is wearing bubbles and cheap nail polish on her toes.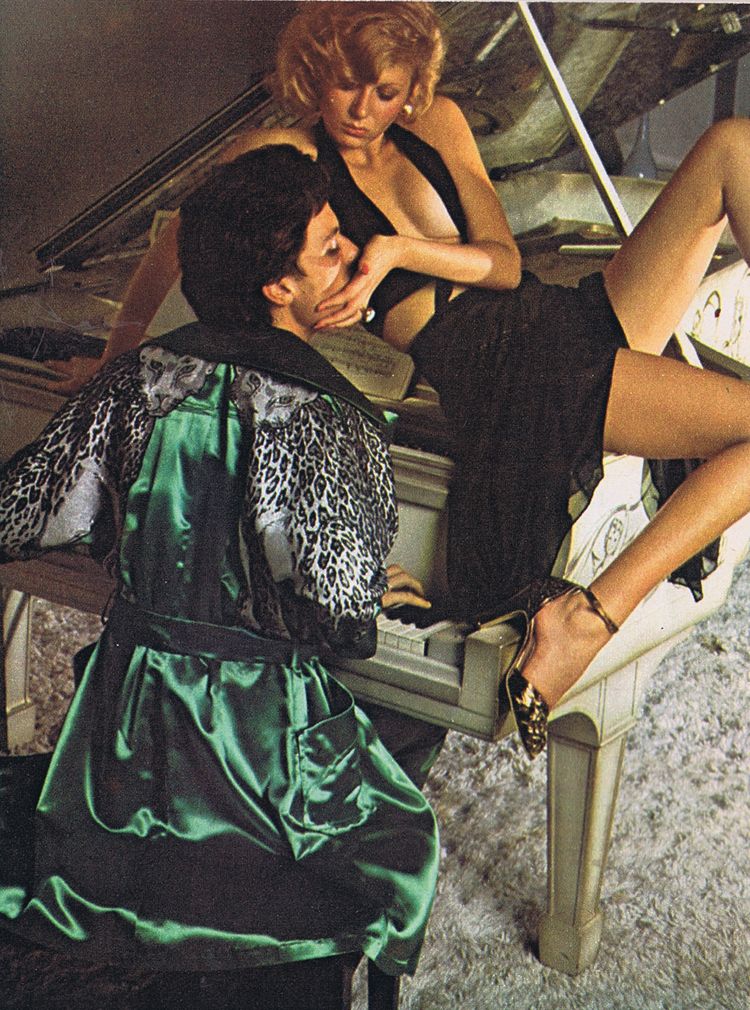 As Wade plays a tune about cool nights and soft flesh, Tina goes after Hollywood elegance in a halter and skirt of black voile by Granny Takes a Trip, with gold rhinestone ring by Donald Stannard Inc., and gold shoes from Scott Barrie. George Gershwin wrote Rhapsody in Blue on this piano, but Wade sees himself as more of a symphony in green in this satin lounge jacket and pants from Granny Takes a Trip. Wade runs his finger down her arm, and Tina shivers with the moon.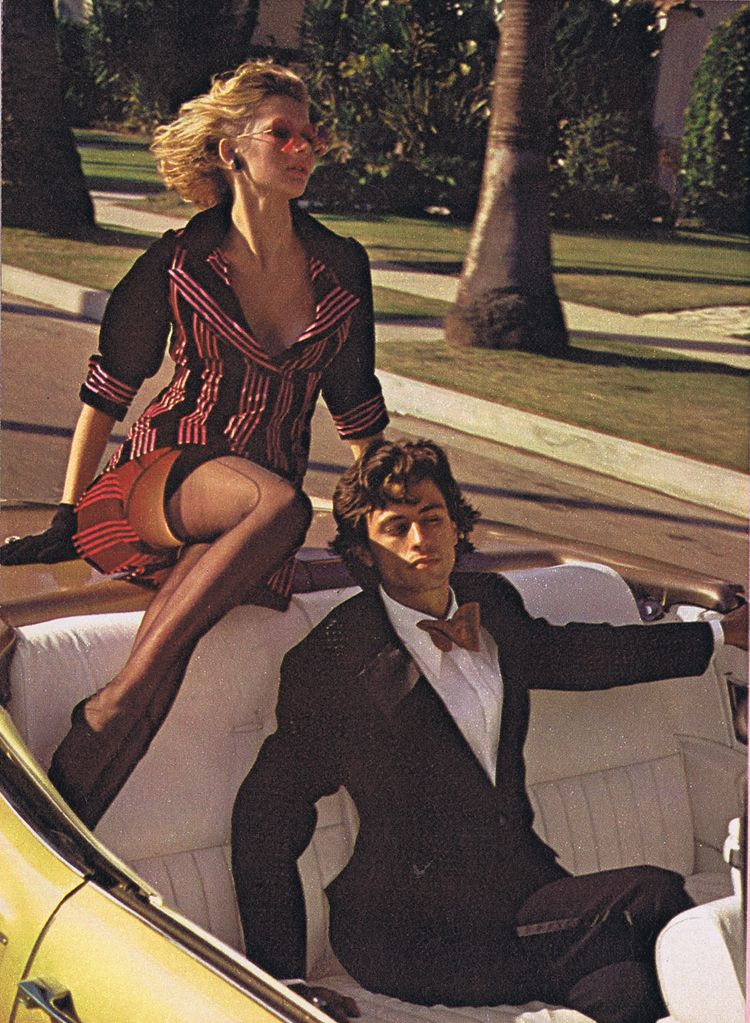 Tina and Wade seldom venture out; the sun is too bright for their eyes, the nights too wild. It is cozier at home, just Tina, Wade, their evening clothes, and glossies of their favorite stars. Wade's lips are hot against Tina's chill hand, her rhinestones flashs cold sparkle, and in the glow of the fire behind them, the spirit of Jayne Mansfield in all her glamor appears for a brief second - and then vanishes.
Wheeling down Sunset Boulevard in a gold Cadillac, Wade is unflappable in a black polyester tux with a white pin-dotted jacket and cummerbund from After Six. His white-on-white shirt with pleating is by Pierre Cardin, and his silk tie is from St. Laurent. Tina's jacket and skirt of hot pink and black velvet stripes on satin comes from Granny Takes a Trip, her shoes from Mario Valentino, black glitter earrings from Moon, and heart-shaped pink-lensed sunglasses from Ultimate Spectacle.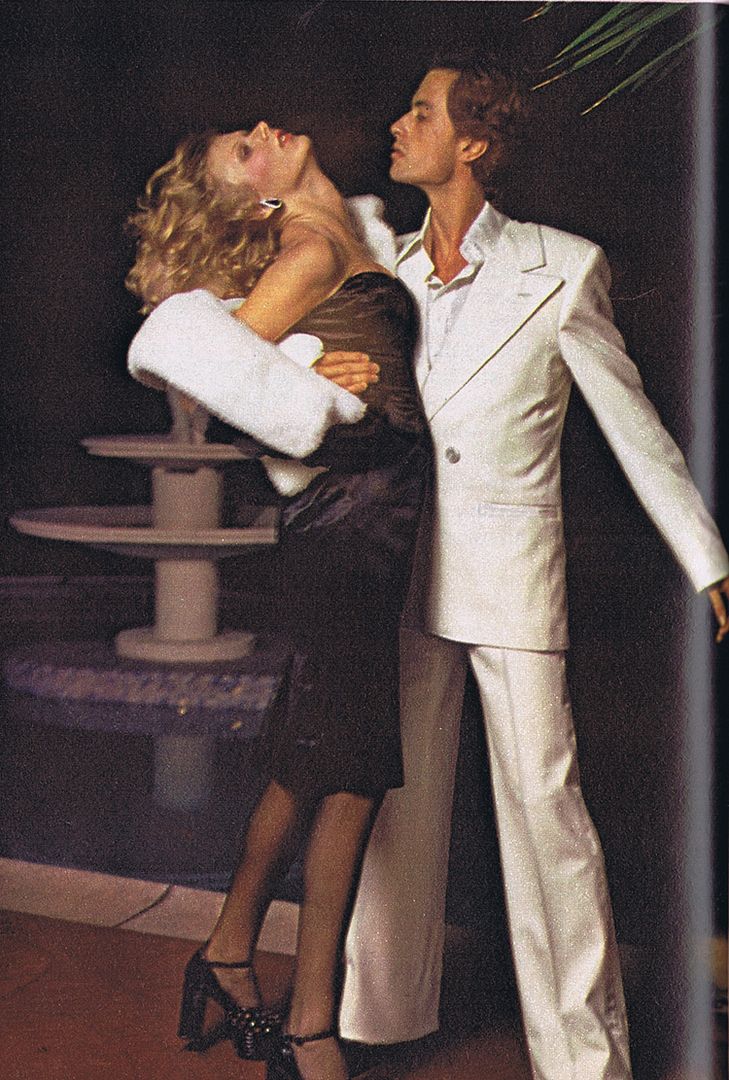 Has he caught her cheating, or is it just another act? He's dressed by Pretty Boy Floyd in a white flannel moire-trimmed tux, a white-on-white silk shirt by Halston for Scorpion, and those Pierre Cardin wing tips. Tina's black satin strapless came from Bubbly Dream Clothes, her white mink from Ben Kahn, and her patent polka-dot shoes from Mario Valentino. Tina's rhinestone rings and earrings are available at Moon.